Saturday morning brought news of a mass shooting at a Pittsburgh synagogue, where congregants had gathered for services.
A man shouting anti-Semitic slurs ran inside the Tree of Life synagogue in the close-knit neighborhood of Squirrel Hill and opened fire, killing 11 people. Six people were injured in the attack, but it left many more hurting.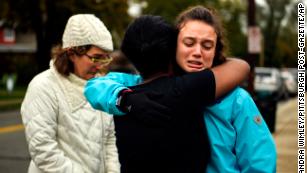 Kate Rothstein, left, looks on as Tammy Hepps hugs Simone Rothstein, 16, after multiple people were shot at The Tree of Life synagogue in Pittsburgh.
"This is an absolute tragedy," Pennsylvania Gov. Tom Wolf said in a tweet. "These senseless acts of violence are not who we are as Americans."
Social media posts targeting Jews that are believed to have come from Bowers are a focus of the investigation, a federal law enforcement official told CNN.
Synagogue shooting suspect identified 
Shortly before the shooting, in an account on the Gab social media platform that authorities are investigating, the suspect is believed to have posted that he "can't sit by and watch my people get slaughtered. Screw your optics, I'm going in."
A law enforcement source told CNN that investigators believe that other anti-Semitic posts on a Gab account belong to Bowers. The language on the account matches the suspected motivation behind the shootings, the source said.
Law enforcement personnel respond to the scene of the synagogue shooting in Pittsburgh on Saturday.
In one post, Bowers wrote, "HIAS likes to bring in invaders that kill our people," referring to a Jewish refugee advocacy group that held a National Refugee Shabbat last weekend.
Bowers also posted xenophobic content, claiming Jews were helping transport members of the migrant caravans in Latin America.
US Attorney General Jeff Sessions said Bowers now faces hate crime and other federal charges that could lead to the death penalty.
"Hatred and violence on the basis of religion can have no place in our society," Sessions said. "These alleged crimes are reprehensible and utterly repugnant to the values of this nation."
What comes next?
Trump told reporters at Joint Base Andrews in Maryland that the shooting in Pittsburgh was a "terrible, terrible thing."
Trump: Shooting had little to do with gun laws
He offered support and sympathy in messages on Twitter, saying "All of America is in mourning" following the massacre.
"This evil Anti-Semitic attack is an assault on humanity. It will take all of us working together to extract the poison of Anti-Semitism from our world. We must unite to conquer hate," the President wrote.
Sessions promised to "bring the full force of the law against anyone who would violate the civil rights of the American people."
"We all have so much more in common than we have to differentiate us, and I think nights like tonight remind us of that," Jeremy Blanche-Schwartz, who attended the service, told the station.
An interfaith service also took place at Sixth Presbyterian Church in Squirrel Hill on Saturday night, KDKA reported.
Mourning will continue as communities all over the country wake up Sunday to practice their faith. They'll watch football games — the Pittsburgh Steelers have a home game Sunday — and the crucial Game 5 of the World Series.
Sunday morning talk shows will try to dissect the events of the past week and what it will mean for America's future.
But the victims will relive the tragedies long after those hate-filled 72 hours.